So last month I had the privilege of acquiring these two artbooks from one of my most cherished video game franchises--Armored Core. One might ask in this age of digital information why I must have physical hardcopies of things I could probably find on Google Ima--NOPE.
Also holy crap--it's as if the world is coming to an end this year with the recent string of announcements from your beloved model kit manufacturer Bandai . . .
Armored Core Designs + Armored Core 4 & For Answer; Armored Core for Answer NEXT artbooks
I don't think anyone has scanned nor uploaded a copy of these. (And nor will I). I love mechanical design so much I just had to get a hold of these. I purchased these from
animebooks.com
located here in California, US simply because I happened to run into them while browsing. I had no idea these existed. Was it a rational decision to blow some $150+ on two mere art-books?
The same reasoning I build model kits--I love mecha.
Now these may not be for you, especially since they start at 7,000 yen and 4,500 yen (that's a lot in USD). Not as expensive as my college textbooks though
so there were supposed to be different VOB designs
imagine if this 'gimmick' had made it into the game final design
It's difficult to review the books since I'm a such a sucker for mechanical design and the small details into making things. What difference is it than ordering the Collector's Edition of a game just for the extras?
If I had to pick one out of the 2 books
--I would choose the Armored Core Designs over the NEXT personally for a few reasons:
-hardcover is great
-higher price justified by more pages of delicious full-colored content
-NEXT has a bit of content carried over from Designs but overall feels like a 'follow-up' to it
I'm very pleased with my purchase so I just had to share here.
TL;DR I love these books
and they will serve as a creative-springboard for my future model kit builds!
now I must talk about recent developments . . .
Master Grade 1/100 Tallgeese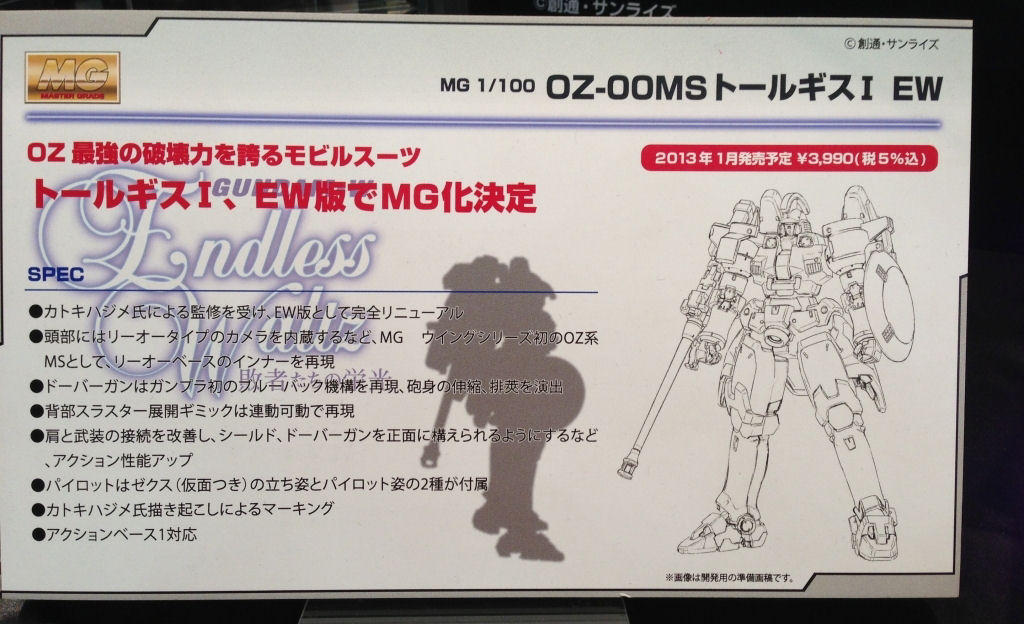 The
cure for Cancer
is coming!
Well played, Bandai. This took me by surprise since I thought they were done after releasing the MG Epyon and are currently finishing up the SEED lineup (celebrating the HD Remaster). I've been avoiding buying new kits simply because I have too many already and nothing in recent memory has struck me as 'good

value'.
MG Tallgeese is on my buy-list as well as a few others I will mentio

n below
more pics here
Bandai Japan is pulling out all the stops
MG Nu Gundam ver ka
(Ver 2.0) - Crap, I already own the original MG Nu . . .
More Robot Damashiis - expensive action figures they be
HGUC GM Sniper II - a UC favorite grunt unit
Figure Arts expands into other series/game franchises - they are best known for Kamen Rider figures
D-Arts expanding - I've read about paint transfer/quality issues but they are releasing molds no one else is bothering to do (like Digimon and Medabots!)
... that's it? Well, I'm sure there are more announcements for upcoming products I haven't mentioned. I am looking forward to every single one of them. Consumerism at its finest.
Funny how most of those products are planned for release sometime in January or afterwards. (Maybe it's due to spring-time being model-building season?) I feel like a 10-year old all over again
So how am I doing?
Glad I asked. I'm currently SUPER far behind in terms of model kit building and review-writing. My Zeta A1 is standing on the workbench waiting to be sanded, decal'd and painted for minor details. Being a college student time-management is of utmost importance--I put other things ahead of others so I'm saddened to say that gunpla-building isn't anywhere on top of the list right now.
. . . I've actually been playing Borderlands 2 and League of Reta--I mean Legends occasionally between studies but, when you got friends to do it with it, it becomes meaningful time.
As if my slowing down means the industry does--Gunpla is only going to get better and better; I truly envy people who are actively building kits right now because there are so many good kits to choose from. But isn't that the same for many merchandise? (cars, computers, general electronics, all sorts of stuff)
is anything timeless? =D
. . . so my 2TB hard drive I use to store media and family documents/photos returned errors recently; I'll be prioritizing backing up of my personal data--I hope Western Digital has a good warranty!